KAPATA Patent model:IP40 Rigid Bar Light for Food Display Lighting (TOP1 since 2010 year)
PROFRESH is famous brand under KAPATA company,focus on food dispaly lighting solutions,
devote to keeping the food more fresh and health !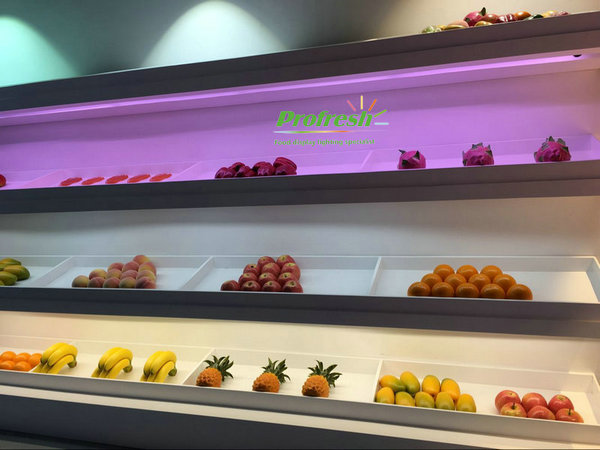 KAPATA'S Top 1 product: IP40 Rigid Bar Light with rotatable Magnet Brackets for shelf lighting and display case :
*With Small dize(Some refrigerator and display case which is too limited space to fit T8 Tube lights.

*With Unique&Customized color to bring out the freshness of the goods
With Profresh professional solutions, Retailers improve the visual of their display and also reduce product shrinkage and discard rates. Making the food looks more appealing
and fresh help retailers maximize sales.
Profresh Meat
1.Features a specially tailored color for meat to bring out the freshness.
2. Illuminates meat and charcuterier in their optimum colors for irresistible presentation.
3. High energy saving compared to special color halogen lamps.
4. Long Lifespan 50,000hrs with more than 100,000 switches.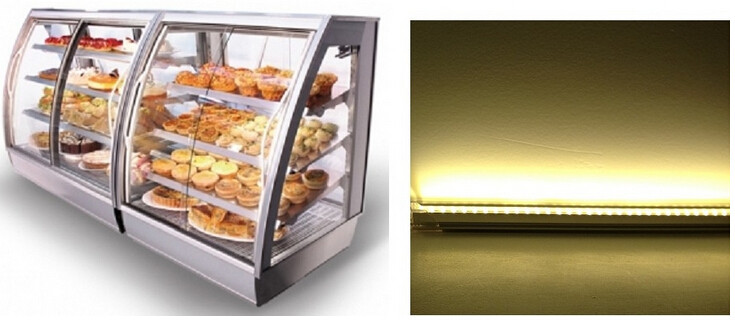 Profresh Bakery
1. Profresh Bakery solution for bread have a concentrated in golden part.
2. Truthful color rending does not disturb the natural colors of the food.
3. Reduced warm up of goods illuminated.
LED Lights emit no infrared or ultraviolet light which minimizes heatand consequently the spoiling of vegetables, bring out the best qualities in the food.
Profresh Vegetables and Fruits
1. Fruits and vegetables should reflect freshness, They need higher color temperature and cooler light.
2. Truthful color rendering does not disturb the natural colors of the food.
3. Most fruits and vegetables looks good under medium-cool light sources.
Profresh Beverage
1. Enhance the drink visibility
2. Cold color temperature bring out cool summer for clients.
3.Stimulating the purchasing desire.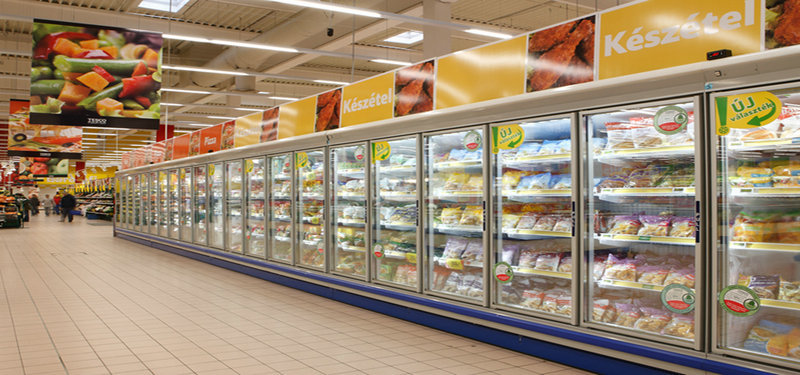 Profresh Dairy
*Magnet and Rotating mounting Bracket-Flexible and easy installtion to solve the expensive cost for electrician problem.

*2 pcs Bar Light connect directly, shorten dark space, make merchandise more glamorous

*Powerful-Expandable up to 7 meters-Magnetic fixture.
With our Quick fixed LED Lightsystem, You are able to bring your products on stage. Point your highlight of the week, or catch more attention with clever
illumination in
shelves and haunch. For assembling in shelves, cabinet, display case and wardrope, Ideal also for indirect lighting, diversity versions with several elongation avaliable.

*KAPATA have 2 splitter and 6 splitter special for frezer display rack use.

*Application:Supermarket, Food display Cases, Freezer, Cabinet and other food showcases. Aisle lamp etc.

Here are some differences between Well know brand tube and our Rigid Bar Light for freezer and display Case:

1. Installation:
Well know brand Tube light: Profresh Light solution:
Light fixed by band, easy to fall off, inaesthetic Bracket with magenet, Easy for install, 1 unit magnet can undertake 1.5KG Weight.

Well-known brand Tube light: Profresh Light solution:
Long distance between lights cause dark space and non-uniform Connecting directly, shorten dark space. make the merchandise more
light ray. glamrous.

3. Installation
Well know brand Tube light: Profresh Light solution:
Light installed seperately, monotonous, unconnected. Connecting optionally, to meet different installation requirement
Also welcome to visit our website : www.profreshled.com to check whether you have something interested,kindly inform us if you need soome samples for test ?
You will be surely impressed by the price and quality.
If you have any further question, Please kindly come back to us freely ,KAPATA teams always here for you !
Thanks for your highly attention ,all the best !
Marketing Dept from KAPATA