Profresh serves for OEM Display Case Manufacturers
Profresh lighting solutions Introduction
Profresh is the leanding brand under KAPATA company to develop a light source that combines superior color rendering with reduction of harmful radiation.
A pioneer in the field of lamp production technology,Profresh fluorescent lamps and LEDs apply Balanced Spectrum technology, a proprietary phosphor-coating process that produces a natural, balanced light and filters out damaging Ultraviolet, Infra-Red and visible spectrum wavelengths.
Profresh lamps and LEDs have been used in the food industry for over a decade, helping supermarkets,restaurants, coffee shops and bakeries display perishables in favorable light and protecting items from drying, fading and bacterial degeneration. During the last several years, retailers of heat and color sensitive products such as leather, flowers and cosmetics, have also started specifying Profresh lamps.
Most recently, Profresh lamps and LEDs are being requested for a number of new and exciting applications, such as medical and dental procedures, museums, auto shops and other industry applications where true color or low radiation are critical.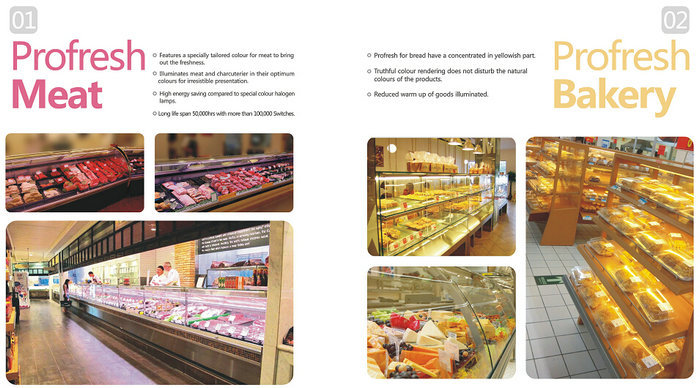 How Profresh Light can Add Value to a Display Case
Based on the relationships we have developed with other equipment manufacturers, we are confident that our commercial lighting system can add significant value to your business by complimenting the twin functions of a display case:
a) Improve Visual Merchandising
As you know, your customers expect a display case to present merchandise in an attractive manner. Curved glass and brass finishing are examples of how case design can contribute positively to merchandise presentation. However, since the main purpose of a display is to draw the customer's eye to the merchandise itself, it is not enough to design an attractive case. As many case manufacturers have realized, proper lighting can make the critical difference between an outstanding or mediocre presentation. And this, of course, reflects directly on the effectiveness of your case.
Profresh lighting produces outstanding color definition and low glare. Our lamps have received the highest Color Preference Index (CPI) rating of any lamp in the market. This is because Profresh lamps are coated with phosphors previously used only for television picture tubes. Such phosphors are much more expensive then those used in regular lamps ($700 a pound vs. $40 a pound), and offer the highest quality color rendering available in any merchandising lamp. Profresh specialty lamps bring out the full, natural range of color in merchandise without distorting or artificially enhancing its appearance.
We believe that investing in the best commercial lighting available for color sensitive applications such as fresh food, flower or cosmetic displays, is a logical extension of your commitment to provide merchandising advantages for your customers.

While for some manufacturers it may appear that commercial lighting is beyond their concern, we believe that it can be a costly mistake to leave the completion of a merchandising strategy in the hands of unqualified personnel, whose only incentive may be to lower costs. Indeed, while excellent lighting complements the work of merchandising cases, cheap or improper lighting can actually ruin displays by fading or washing-out colors and by using overly bright lamps that draw the eye to the glass and metal on the case.

b) Preserve Quality and Extend Shelf-Life
The second function of any display case is to maintain product integrity as long as possible. This typically has meant developing temperature and moisture controls for refrigerated cases in order to reduce early spoiling of products. Yet problems such as drying of fresh foods, wilting of flowers and fading of leather or clothing, persist. Increasingly, as retailers search for solutions, product degeneration is being linked to the damaging effects of radiation, or lighting.
Studies have shown that lighting produces several types of radiation that can be damaging to particular products. Ultraviolet and Infra-Red radiation, for example, have long been associated with surface drying and internal heating of merchandise. More recently, scientists have also discovered that certain parts of the visible spectrum - in particular those emphasized by regular fluorescents - can also have damaging effects on fresh products such as meat, where bacterial growth is a major concern. Profresh Food Lighting lamps help reduce all three kinds of radiation.
Committed to highest standard of excellence in lamp manufacturing, Profresh has developed a proprietary, Balanced Spectrum coating process, which combines excellent color rendering with special filters that dramatically lower Ultraviolet, Infra-Red and visible spectrum radiation.Profresh Food Lighting lamps have been tested by independent laboratories and been shown to have 86% lower radiation than regular lamps. Ultimately, this translates into extended shelf-life for your customer's products.
Of course, your customers may not realize that the cause of the problem is improper lighting. They may identify a shelf life problem and incorrectly assume it is being caused by dry air, poor cooling systems or deficient case design. This clearly is not in your best interest as a case manufacturer. It is thus critical that you take a proactive role in providing solutions to your customers merchandising problems, even if this means educating them about proper lighting for certain sensitive products.
One way to approach this is to simply mention the availability of specialty lighting to your customers. A more effective way is to specify a lamp such as Profresh and make it standard in those cases where the difference in cost is justified by the fact you are providing innovative solutions for your clients and will benefit as a result. Either way the additional cost of including a specialty lamp is negligible when considered as part of the manufacturing process. Indeed, when BJW Food Lighting is specified for cases where lighting can make a critical difference it is an investment that offers outstanding returns.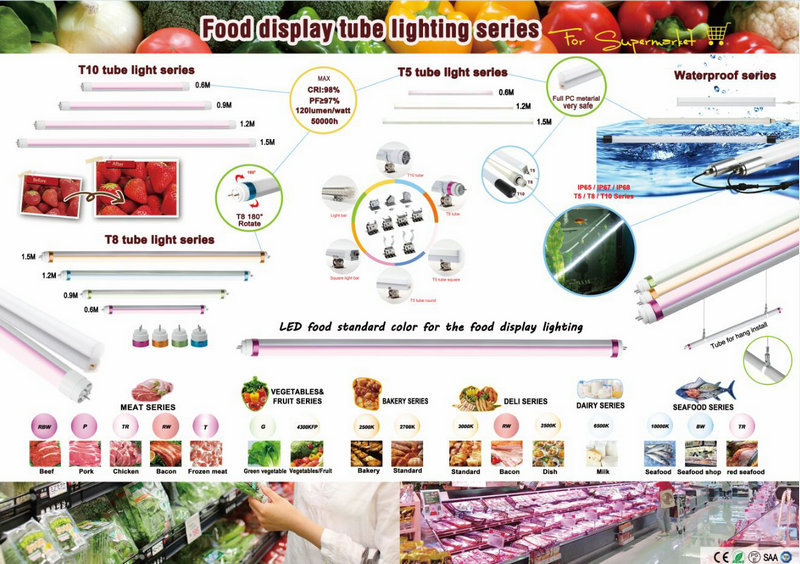 • Seafood
Making Profresh Light Standard or Optional in your Display Cases
Profresh Light has established successful business relationships with equipment manufacturers who make our lamps standard or optional in their display cases. We believe that this is a win-win combination for both parties since Profresh improves performance of cases and helps your customers achieve better results. As a means of expanding our business partnerships with other equipment manufacturers, BJW provides custom options for unique commercial lighting needs, and offers special pricing and discounts to OEMs.
We invite you to learn more about our specific products by contacting us directly for further information on requesting Profresh lamps.
KAPATA Marketing dept
6th July 2016
May Zhang